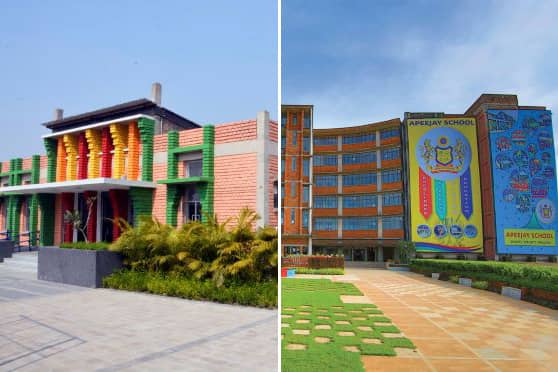 Admission open to Apeejay schools for Haldia and Bhubaneswar branches
Summary
Admission open for classes LKG to VII for the academic session 2022-23 in Haldia, and classes LKG to XI in Bhubaneswar
Admission forms can be submitted online as well as in person at both branches with a nominal fee
The Haldia and Bhubaneswar branches of Apeejay School have started their admissions process for the 2022-2023 academic session. Apeejay has two other schools in Kolkata, one on Park Street and the other in Salt Lake.
The Apeejay Group has a heritage of nearly 50 years in achieving academic excellence through the Playway Method. Schools that are part of the group promise full child development and offer career counseling, well-qualified and experienced world-class teachers, smart classrooms, 21st century technology and skills development.
Speaking about the school, Kiranjit Singh Pannu, General Manager of Apeejay Schools (Kolkata, Haldia and Bhubaneswar), said: "Apeejay Schools are intellectual and creative centers that enable learners to imbue themselves with the three powerful virtues of a truly educated individual – Strength, Vision and Wisdom. Since the establishment of our first school in 1975 in Kolkata, Apeejay Schools have won countless accolades for their academic excellence and their admiration for the close bond of trust and faith shared between parents, teachers and students. By relentlessly focusing on the emotional, spiritual, physical and mental growth of the child, each year we prepare just over 3,000 children to become socially responsible citizens.
Other school facilities include large open spaces for various sports, special education and counseling rooms, ramps for special children, a computer lab, library and resource center, as well as equipped classrooms. of technologies.
"I believe our appeal as a school lies in our strong sense of community. The Apeejay staff absolutely make sure everyone is involved in our Apeejay family of schools. In such a secure environment, students are free to challenge themselves and take risks that will lead them to reach their full potential. Most importantly, you will find a warm school. Students and their parents will find themselves in an extraordinarily friendly community, a school that is welcoming, warm and unpretentious and where students and staff get along exceptionally well, "said Pannu.
Details on the application and admission process:
Visit the Apeejay School website, www.apeejayschool.in, for online admission. Admission forms are also available on the respective school campuses.
Application forms can be submitted online or in person at the school by depositing a small fee.
Parents can tour the school and have first-hand experience of the school's infrastructure and laboratories, as well as meet with the principal and faculty to understand the academics, accomplishments, and various procedures of the school.
For more questions, please call 7077006609 for Bhubaneswar School and 8900646077 for Haldia School.
For forms and registration at Haldia school, Click here.
For forms and registrations at Bhubaneswar school, Click here.
Last updated on November 17, 2021