Defense language school pays tribute to Shannon Kent, Navy linguist killed in Syria
U.S. Navy Chief Petty Officer Shannon Kent on her first combat deployment to Balad, Iraq in 2007. (Courtesy photo)
U.S. Navy Chief Petty Officer Shannon Kent on her first combat deployment to Balad, Iraq in 2007. (Courtesy photo)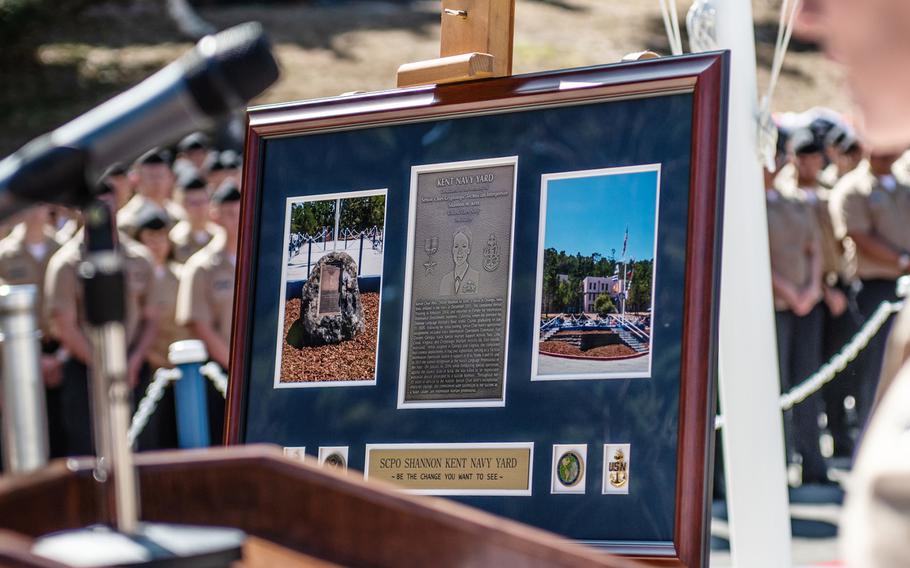 A gift for the inauguration of the Kent Navy Yard is seen at the Presidio in Monterey, Calif., August 21, 2019. The Kent Navy Yard is named after Chief Petty Officer Shannon Kent, a Navy linguist who died in Syria on January 16. , 2019. (Marcus Fichtl / ​​Department of Defense)
Language Institute, which includes a number of Navy barracks buildings."/>
Information Warfare Training Command Monterey dedicated its training phase to the command and surrounding buildings in honor of Senior Chief Shannon Kent on August 21, 2019. The area is now officially known as the " Kent Navy Yard, " a small part of the Presidio de Monterey and Defense Language Institute, which includes a number of Navy barracks buildings. (Marcus Fichtl / ​​Department of Defense)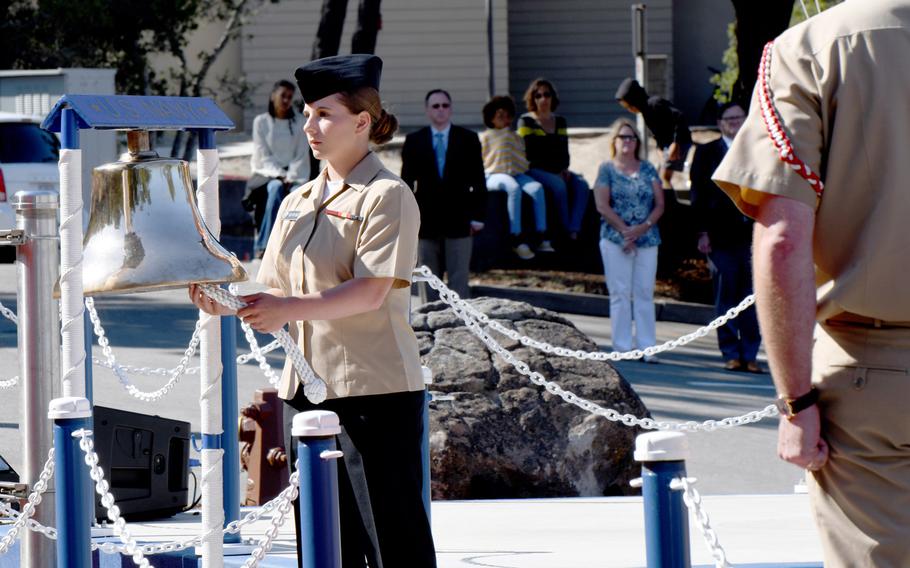 A section of the Presidio of Monterey in California, home of the Defense Language Institute, is dedicated on Wednesday, August 21, 2019 to the memory of Principal Linguist Shannon M. Kent. The mother of two and cancer survivor was one of four Americans and more than a dozen residents killed in a suicide bombing in Manbij, Syria, in January. (US Navy)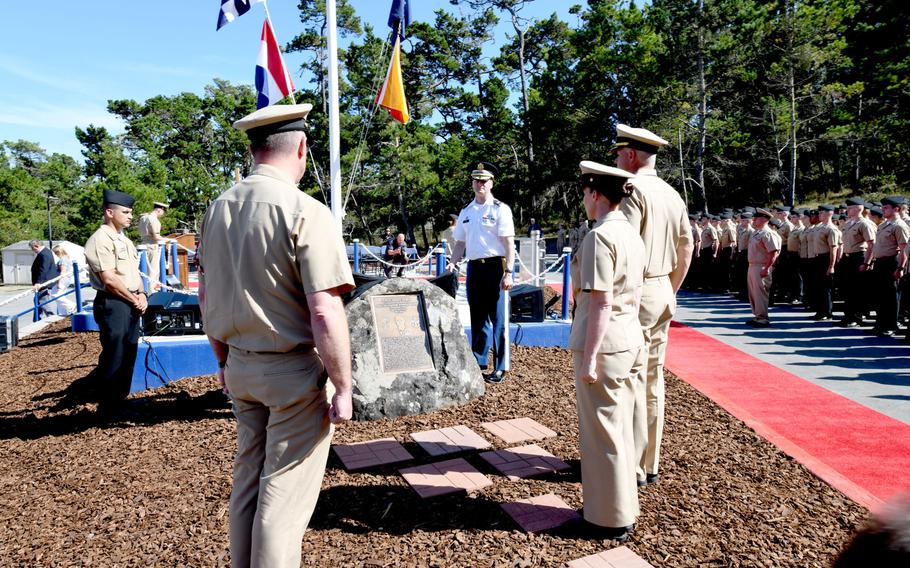 A section of the Presidio of Monterey in California, home of the Defense Language Institute, is dedicated on Wednesday, August 21, 2019 to the memory of Principal Linguist Shannon M. Kent. (US Navy)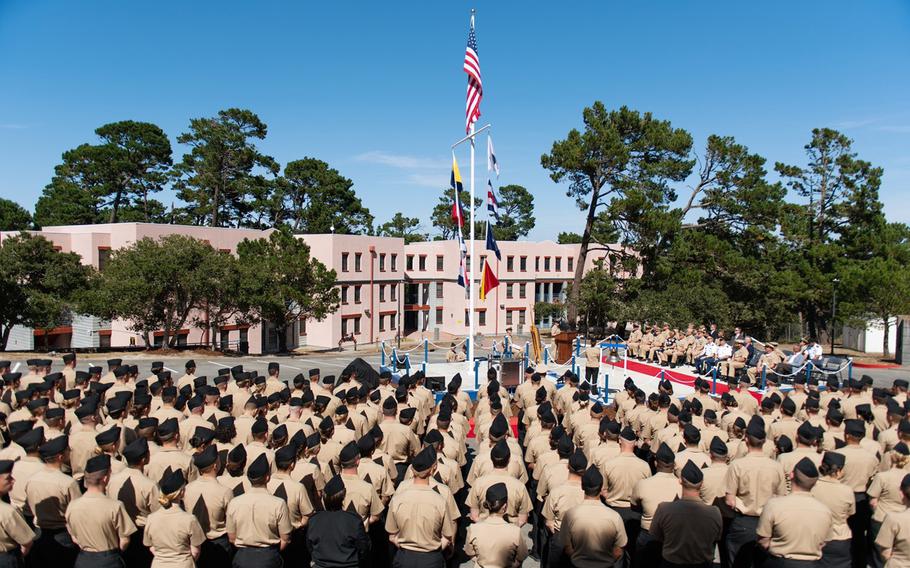 Sailors attached to Information Warfare Training Command at Monterey stand in formation during a ceremony Wednesday, August 21, 2019 at the Presidio de Monterey to dedicate the training phase to the command and surrounding buildings in the Honor of Principal Chief Shannon Kent. (Marcus Fichtl / ​​Department of Defense)
A Navy linguist killed in Syria earlier this year had a section of the California Presidio in Monterey, home of the Defense Language Institute where she trained, named in her memory.
The small area, which includes several Navy barracks on a wooded hill overlooking Monterey Bay, was dedicated last week in honor of Chief Petty Officer Shannon Kent, who graduated in 2005 from the Arabic course at the School of language, which was part of four Americans and more than a dozen. residents killed in a suicide bombing in January in the city of Manbij.
Dubbed the "Kent Navy Yard," the area is shown in photos from the Navy Information Warfare Training Command in Monterey and includes a training scene, a flagpole with an American flag and a rock bearing a commemorative plaque bearing the image of Kent and a brief biography.
The 35-year-old mother-of-two and cancer survivor, who spoke seven languages ​​and was considered a 'badass' by many of her peers, has spent much of her career working alongside the operations troops special.
Her death while deployed in support of an operation to hunt down the remains of the Islamic State group has drawn attention to the work women servicemen have done alongside elite frontline units. It also resulted in changes to a flawed commissioning and release process for the Navy which led to its deployment instead of pursuing a doctoral program.
Kent did not fear danger and served selflessly throughout his career, said Chief Household Officer Scott Welker, a guest speaker at the dedication ceremony. He used as a chorus in his remarks a line Kent said after being told of a risky assignment earlier in his career: "Send me. "
"You will be asked to push your abilities to their limits, and beyond," he told the gathering made up mostly of language students. "Not for you, but for those who will never know you. It is the heritage that you are baptized into. This is the legacy of Senior Chef Kent. 'Send me.'"
Kent's story motivated the sailors at the school, one of the toughest in the Department of Defense, said the Navy Training Command.
"She started her career here and has embodied everything we expect from our students and more," said Master Chief Petty Officer Christopher Stevens, the enlisted leader of the command. "Now she will continue to be a role model for all future generations of Navy linguists."
There is no precise count of the number of IDD graduates who were killed in action, although nine of its early students were killed in World War II and 295 others in combat in Vietnam, wrote the former student, instructor and administrator of IDD Ben De La Selva in a 2017 book.
At least 11 graduates killed in conflicts since World War II have been honored with buildings bearing their names at the school, he said. He also listed 30 graduates killed in hostilities since September 11.
Kent was the last IDD graduate to be killed in action, following the June 2018 death of the Army Staff Sgt. Alexander Conrad, a member of the 3rd Special Forces Group (Airborne) shot dead by militants in Somalia.
Kent has deployed to combat four times to support SEAL 4 and 10 teams in Iraq and Afghanistan, before deploying to Syria last November, the Navy commemorative plaque says.
"Shannon was a rare breed," said Sgt. Major Clint Rowe of the Regimental Military Intelligence Battalion, 75th Ranger Regiment at Fort Gordon, Ga. Who attended the DLI with her and later passed her. "A female in a dominant male [signals intelligence] world. She was high level.
[email protected] Twitter: @chad garland