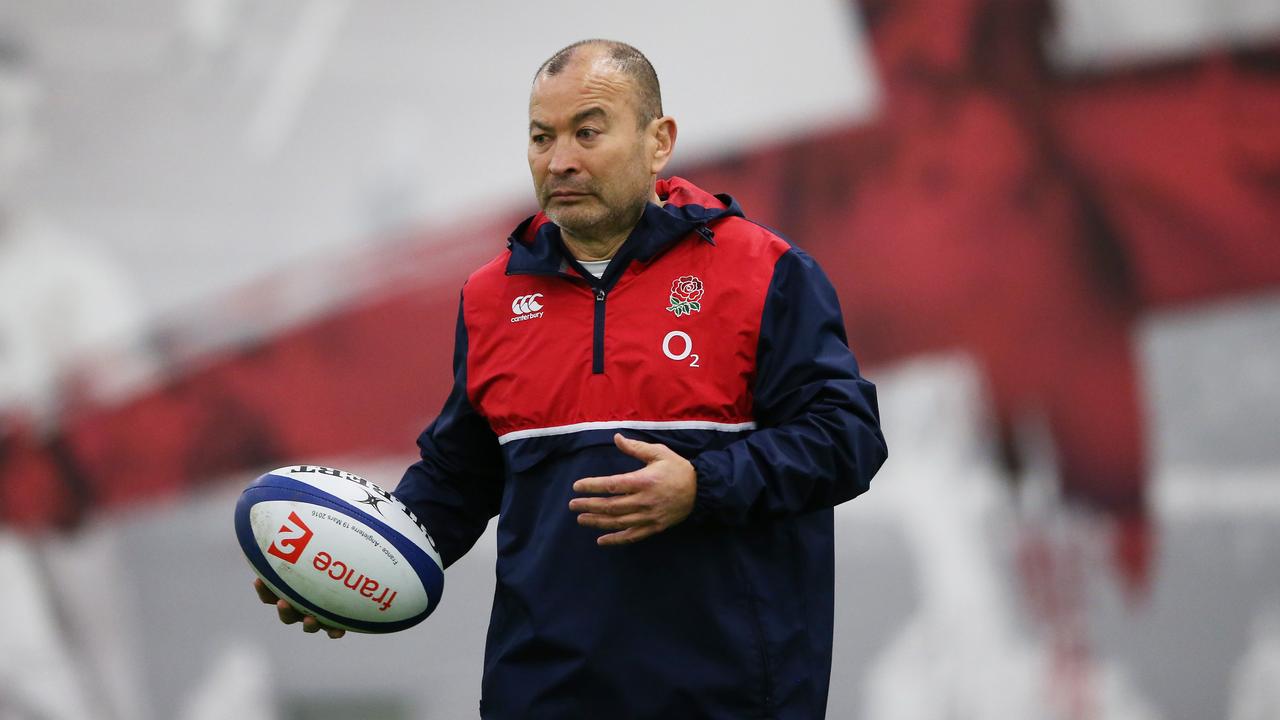 England rugby news: Eddie Jones v private school system, Owen Slot analysis
It's extraordinary that Jones blames his players' perceived flaws on the schools they left 10 years ago when he spends more than three months with them each year, writes OWEN SLOT.
As you might expect, Eddie Jones' latest critique of England and the type of athlete its society breeds caused quite a stir. It's pretty predictable because Jones has relentlessly gone after the nation that employed him and the society he found here over the past 6 and a half years. He did it in camp with the players who represent England, he did it in his own autobiography and he did it again in a recent interview.
He is, of course, entitled to his opinions, and he would not be the only one criticizing the nation at the moment, although his employers in the RFU, presumably rolling their eyes with a "here we go again", have made it clear that they would rather he kept those opinions to himself.
His latest critique of the private school system in this country is intriguing, in part because that's how he chose to educate his own daughter. During her Saracens training spell in the 2000s, she spent two years at Haileybury College, the same school that produced England players Jamie George and Nick Isiekwe.
His suggestion that England's state schools are not producing alumni with resilience or leadership qualities is disconcerting partly because his current England players are as diverse as the national team has ever been and also because that the RFU has gone to great lengths to change a sport, which has its roots in private schools, into the public sector.
And is he saying that only English private schools are at fault? Because probably the most successful pathway system for young rugby players anywhere in the world at present is that of Ireland and which is strongly rooted in private schools in Dublin. A large number of Springboks go through private schools in South Africa; indeed, in his native Australia, particularly in Sydney, many players also go through the private education sector.
To generalize about player types, behaviors and backgrounds in this way is simply lazy and inconsiderate. This further points to the body of evidence that suggests Jones simply has no deep affection for his adopted nation.
As a manager who was once part of his England team said: "I always felt there was a slight hatred [for] English." Perhaps this can be attributed, in part, to his endless war with the media, his eagerness to be accountable to the RFU (yes, to be accountable to his employers – that is not an original concept) and his frustration with the system he has to work with.
However, insiders will tell you that he attacked Anglicism and English society as soon as he arrived. In his autobiography, he wrote: "I have never lived in a country with the cultural and class difference of England…The English and the Japanese are very similar in that there is always a façade of politeness in their interactions… They both like to female dog about everyone around them.
However, back to the rugby field. In Jones' recent, now infamous interview with The i newspaper, he says that when the going gets tough on the pitch, England players lack resilience and struggle for proper leadership. It's an issue Jones has struggled with since taking the reins with England nearly seven years ago.
It seems extraordinary that Jones blames his players' perceived flaws on the schools they left, on average, 10 years ago – especially when he spends more than three months with them each year. Many of those players have been with him now for seven seasons, three months a year. Even if there really was a problem with their upbringing, isn't that really enough time to re-educate them, re-coach them, to flower in them the kind of mindset that he believes they have need ?
Most coaches and pedagogues will tell you that the behavior of players or students is a reflection of their environment. Players adapt to their surroundings and they tend to do so quickly. it's a kind of human instinct. It is no different in other sports, indeed in all human environments.
When Jones criticizes the behavior of his England players, the problem is probably not with the schools they left a decade ago. it's more likely in his own shortcomings in training them, or how he dealt with them, during his long reign.
That itself has been a topic of debate since his arrival at Twickenham. He's long talked about wanting the players to take control and lead the team, but he's also long had a reputation for wanting to control everything, refusing to trust and letting go and also being such an intimidating leader that the confidence of players grasping the reins is stunted.
Jones is well aware of this. He talks about it in his latest book, Leadership, in which he appears to be having a long conversation with Neil Craig, the high performance manager at the RFU, whose role is, in effect, to observe England's preparation and to give his opinion.
In one passage, Jones writes, "I sometimes turn to Neil and suggest that we're not making the most of our time. Coaches don't talk enough or players don't listen carefully. Neil looks at me and says, "There's a reason no one is talking or listening. It's his way of reminding me of the tone. How can we have healthy conflict and debate if the tone is wrong? »
What's good for England is that Jones is consciously trying to sort out his tone. Some would say he can never change, not now, not after three decades in the game.
England fans looking for signs of hope should be referred to the recent summer tour of Australia and England's change in management, particularly with Courtney Lawes at the helm. Lawes said there was an attempt to change the tone.
"I'm an old man now and I don't mind speaking my mind," he said. "I think that he [Jones] liked this approach. He also said there was now a "compromise" between the players and the coaches in the way the team was run, "instead of everything being one-sided in the sense that we just do what the people say. coaches".
This is where the success of Jones's England lies: in the tone with which it coaches its players, not in the school they attended.
Eddie's Controversies
Japanese coaching
Jones was pilloried in April and spring 2021 for coaching England's rivals – Australian center Samu Kerevi and All Black fly-half Beauden Barrett – at his Japanese club Suntory Sungoliath. The RFU supported him.
Emma Raducanu
Jones faced an outcry for suggesting off-court 'distractions' – such as being featured in Vogue magazine – affected Emma Raducanu's form after the teenager won the US Open. It has been labeled "sexist" and "unfair".
The direction of Maro Itoje
Jones wrote in his recent book that Itoje was "too introverted" to captain England. He then had to backtrack on those comments months later, saying "I've never seen a guy mature as much as him".
"Dirty" Irish
In 2017, Jones gave a talk in Japan where he was filmed calling the Irish "scummy" and Wales a "shitty little place". The RFU and Jones had to apologise.
Sexton's concussions
In 2016, Jones tried to unsettle Irish fly-half Johnny Sexton by saying his parents "would be worried" about him playing despite concussions.