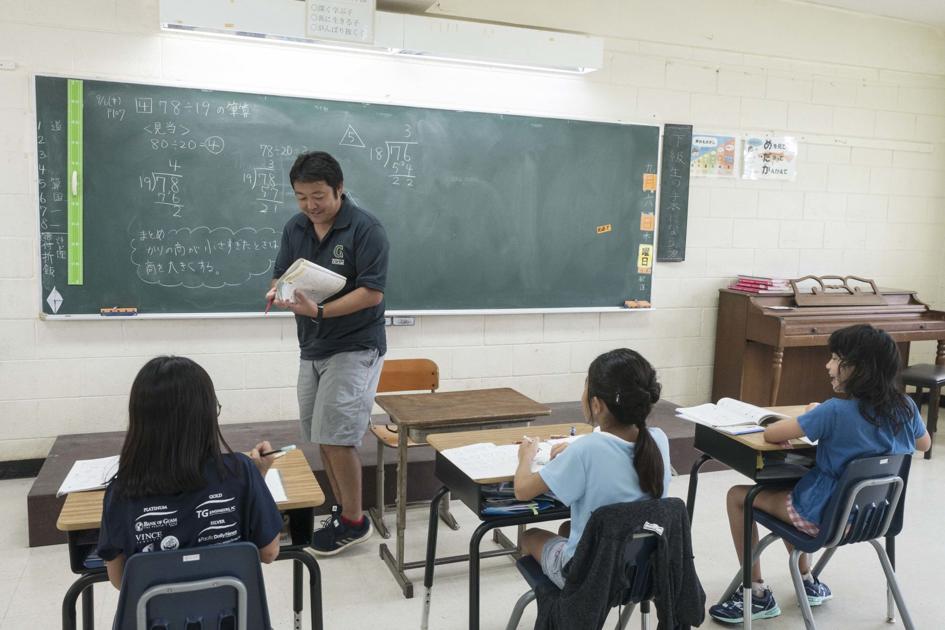 Japanese school takes root in Guam | Guam News
[ad_1]
As the numbers decline, for many years Japanese tourists have been the largest group to come to Guam.
Forty years ago, Masatoshi Kudo came from Japan with his new wife for their honeymoon. Then, seven years ago, Kudo's family returned to Guam, this time for a wedding ceremony – that of his daughter.
In April, Kudo returned again, but this time in a very different capacity – for work.
Kudo's work continues today as he came to Guam this time around to serve as the principal of the Japanese Guam School, located in Mangilao since 1990.
The school, which caters to elementary and middle school children and uses the same curriculum and textbooks as Japanese schools, began its official history in Guam in 1988, when it was previously known as the Japanese school Agana. Prior to that, dating back to 1972, the former Japanese Language Supplementary School moved around a lot using different hotels and schools – the Pacific Islands Club and Tamuning Elementary School, to name a few.
Today, most of the school's teachers come from Japan, where they apply to the government and can stay for up to three years. All teachers share the main office as their own office and work when not teaching side by side. The teachers also have lunch with their students.
Kudo's first words as he sat down for an interview with the Guam Daily Post were, "I don't speak English very well."
Through the school's oldest student who served as a translator, Kudo said the school initially started for Japanese people living and working in Guam temporarily, and then transformed. in the current iteration for Japanese people who had children in Guam or for people who wanted their children to learn Japanese language and cultural customs.
With 64 students today in the full-time program and about 80 more in the after-school and Saturday program, one of Japan's customs regarding school is longer days and more instruction. Classrooms are also slightly more simplistic in appearance, with classrooms being slightly more regulated and orderly. Another difference is that music and art are compulsory subjects in addition to calligraphy, where students use specific ink and brushes to learn the craft. The After School Program and Saturday School are for students attending other local schools in Guam who want additional instruction in Japanese language or culture. Younger children, for example, can learn math using the old counting tool, the abacus.
To facilitate learning English, the school participates in exchange programs with local schools. This school year, he was planning exchanges with VSA Benavente College and Adacao Primary School, which sent students to visit the Japanese school last year.
English teacher Jesse Hartt, now in his eighth grade with the Japanese school in Guam as a local employee, said he believed the children from Adacao Primary School who came to observe last year were " invaluable ".
"It was a really good experience for them to see what it would be like to be a Japanese schoolboy following a Japanese curriculum," Hartt said, adding that learning was a two-way street.
"Many of our students, other than the few years they spend here where their parents might work here (in Guam) for a few years, have never interacted with English speaking students or the culture of Guam, and because our school is so insular in that they are in Japanese all day, it's really invaluable to interact with these other students, "Hartt said." A lot of our students are preparing to return to Japan. "
When Japanese school students participate in extracurricular activities, popular sports include tennis, and an American might not think of it as a traditionally real sport – dodgeball.
"Dodgeball is a legitimate sport in Japan," said Hartt. "I never thought about it growing up in America, but it's a very popular sport in Japan."
The school also hosts an annual sports day in June, which Japanese schools also host and, according to Hartt, that's not quite what it looks like.
"It's not just sport, it's also like a performance," he said. "It's quite a ceremony and designed and structured like what they would do in Japan."
"Like a festival," Kudo interjected, proving that his English skills were better than he had suggested.
The island's Japan Autumn Festival, also known as Akimatsuri and taking place for the 39th year in November, is sponsored by the Japan Club of Guam. .
Hideo Nagahashi, a math teacher at the University of Guam and president of the school's Parents Association, has been in Guam for 12 years and has sent his two children to school since kindergarten. When they get to high school, he and his wife will have to decide whether to go to high school in Japan or stay there, but he likes that he has been able to keep both options open since he graduated from college in the States- United.
"It's good to have a choice," said Nagahashi. "And we really wanted the kids to be able to maintain fluency in the (Japanese) language."
For Coleman Pool, the oldest pupil at the Japanese school in Guam and who impressively translated Kudo when visiting the Post, said he was homeschooled while he attended after-school programs and Saturdays, and next year he'll likely attend a private high school in Guam. The reason he attended Japanese school is that his mother is Japanese, and he said he goes there an average of three times a year to visit relatives. He replied the following when asked what he appreciated and liked about his experience at the Japanese school:
"In Japan you call the older people 'senpai' and you talk to them in a formal way, but here the first graders call me whatever they want and I don't care," he said, also detailing his experience as a youngster. on Guam calling older Japanese people what they wanted and they didn't get angry or insulted.
"In Japan it would be a big problem," he said. "It's just looser here. I mean, I just played with some first graders two hours ago and being able to play with everyone is really what I love."
Children being children; some things are universal.
[ad_2]