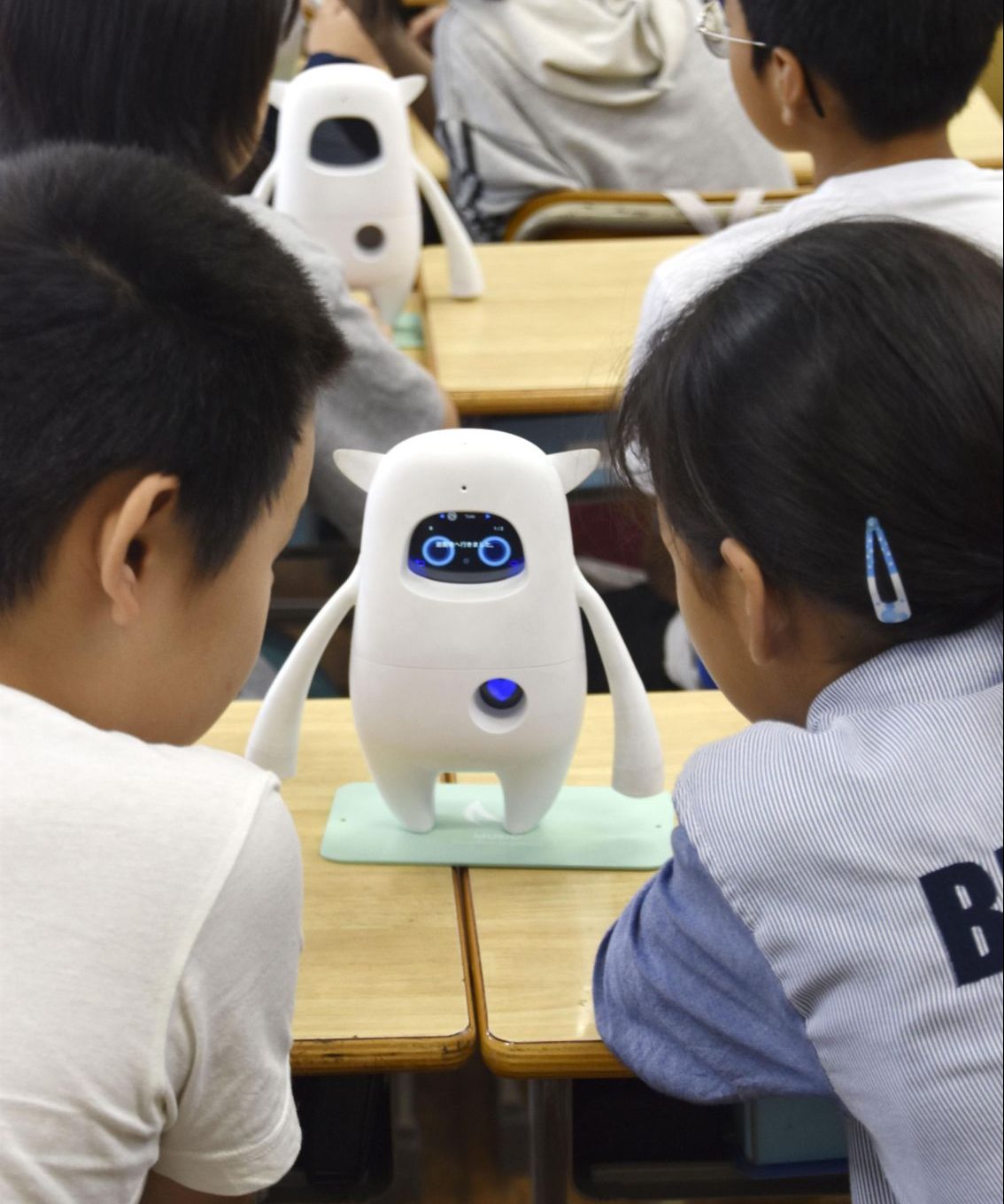 Japanese schoolchildren learn English with AI robots
Leave it to a robot to teach English!
The use of AI (artificial intelligence) robots as teaching assistants for English lessons is spreading in elementary and middle schools across Japan.
There are distinct advantages. Students have more opportunities to converse in English by talking to a robot. This in turn increases their enthusiasm for learning the language. The reduction of the burden on teachers is also a positive result.
According to a specialist, "The implementation [of AI robots] should be accelerated "with a view to the large-scale introduction of English lessons in elementary schools over the next two years.
On the afternoon of October 15, 18 first graders faced a small robot sitting on the desk in front of them in their English class at Doshisha Elementary School in the Sakyo district of Kyoto.
A girl asked, "What season do you like?"
The robot replied, "I love fall."
The smiling students described the robot's common English pronunciation as "very easy to understand – and reassuring, because we can ask a question as many times as we want".
The primary school was the first in the country to start using the AI ​​robot for teaching English "Music X." He has been using the 20-centimeter-tall robot for about two years to facilitate his English program.
The robots are manufactured by AKA, an American company developing AI engines and robots, and are priced at 100,000 JPY (around 900 USD) each.
Installed with several million bytes of conversation data from American television series and English language learning materials, they are able to conduct a free conversation with students in addition to the usual conversation practice phrases.
Takashi Tanda, 59, an English teacher at the school, says he's seeing the effects, even though it's only been a year and a half since he started using the robot in his classes.
"Usually, students are too shy to speak English in front of people, but their speaking volume has increased dramatically because they are having conversations with the robot on purpose," he said.
Tanda further described the robot's presence as "a feeling of having multiple alter egos". This gives him more time to focus on each student individually, he said.
The ability to save each student's name in the robot's database further allows teachers to track each student's progress. The robot manages and scores their pronunciation and conversation skills in English.
Kento Oimatsu, 24, from AKA's Japanese branch, said: "It also eases the burden on teachers as scoring of individual work is no longer necessary.
According to the company, around 50 schools across the country – including public elementary and secondary schools as well as colleges – are now using Musio X in their English programs. Demands from municipalities considering the robot have also increased in recent years.
The National Curriculum Guidelines due to come into effect in 2020 call for the large-scale introduction of English lessons for primary students in Grades 3 to 6. This policy should lead to a further expansion of the use of robots in the field of education.
Many elementary and middle schools have hired ALTs (Assistant Language Teachers) to facilitate the teaching of practical conversation skills. However, it is possible that robots will end up completely replacing ALTs.
Masataka Kan, 60, a professor at Osaka Shoin Women's University, who is familiar with teaching English in Japan, explained the situation: to hire only one ALT.
She compared: "On the other hand, robots cost less than ALTs and their functions are improving year by year. ALTs may not be needed in the future.
(Click on here to read the original article in Japanese.)
Author: Taichi Hamakawa