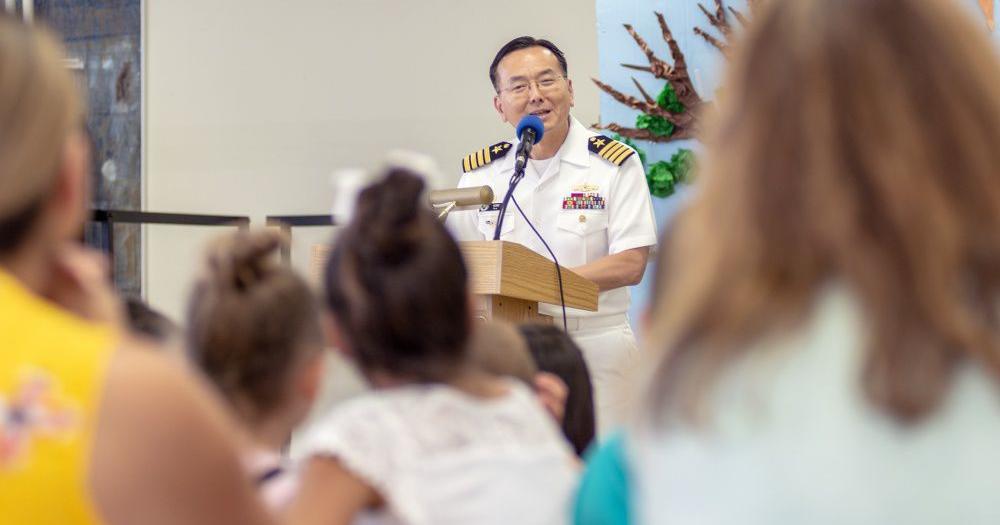 Nearly 300 Yokosuka Elementary Students Complete Japanese Language Pilot School |
YOKOSUKA, Japan (NNS) — Commander, Fleet Activities Yokosuka (CFAY) Capt. Jeffrey Kim celebrated the 290 students who graduated from the after-school Japanese language pilot program at Sullivans School, June 3.
The Japanese Language Pilot School at The Sullivans and nearby Ikego Elementary School is a partnership between the Department of Defense Education Activity (DoDEA) and the Japanese Ministry of Foreign Affairs (MOFA) that was developed by Kim during his tenure as a Mansfield Fellow before taking command of Yokosuka Base. The program launched in September 2018, and it was taught after school three days a week by Japanese teachers and provided free Japanese language instruction to DoDEA students in kindergarten through second grade.
"Nihongo no benkyo wa tanoshikatta desu ka [Did you all enjoy studying Japanese?]asked Kim, addressing the students present in Japanese. « Benkyo wo tsuzukete wasurenai of kudasai [From here on, please continue to learn Japanese and remember what you learned here]."
With smiles from ear to ear, the Sullivans students performed songs and dances to show what they learned to their parents, teachers, classmates and MOFA members in attendance.
Among the MOFA officials present was Director Kohei Akiyama of the department's U.S. Exchanges Division who worked with DoDEA to implement the pilot program.
"I would like to present all the students with the grade of A+ for their great achievement here today," Akiyama said addressing parents after the students' performance. "People-to-people exchanges are the most important for the US-Japan alliance, so I hope your children will continue to talk with the Japanese."
Students in the program, like freshman Nicholas Cornejo, see the immediate benefits of learning Japanese.
"A few days ago I asked some friends to play football with me in Japanese," Nicholas said. "I learned to say it in my class."
Parents said they were proud of their students' performance and what they learned during the program.
"He was really excited about everything he learned," said Katie Gahl, whose son Andrew is a first-grader who took the after-school Japanese program. "The best thing about living here is being able to expose our kids to Japanese culture and now he has the confidence to say 'hello' to people when we're in town."
Making the most of the opportunities available to children living in Japan was a sentiment shared by many parents of students in the program.
"I'm so glad we were in Yokosuka for the pilot program," said Lt. Cmdr. Brandi Orten, judge advocate for the staff of the Commander of the Naval Forces of Japan, whose daughter Anabelle took Japanese lessons. "Coming from a Japanese school in Sullivans, this [program] provided him with great exposure to further his learning of Japanese culture through language, art and songs."
Japanese teachers who came to Yokosuka to teach American children also said they enjoyed the program and were impressed with the performance of the American student.
"It's been so nice teaching all the kids this year," said Baba-sensei, a Japanese teacher who traveled from Tokyo three times a week to teach second graders. "The students were very eager to study Japanese and they are so cute – sometimes they smiled with missing teeth!"
"It was so surprising to me to see how well the children took to writing Japanese," added Ogata-sensei, who also traveled from Tokyo to teach second grade, referring to Japanese logograms and syllabaries. "The hiragana and kanji are so difficult, but they didn't mind and they really enjoyed learning."
The future of building ongoing student relationships continues into the next school year.
"Next school year, the language school will continue three days a week after school," said LaVerne Outen, community superintendent of DoDEA Pacific East District, who organized the Yokosuka program with MOFA. "On August 26, the start of the new school year, information will be made available to students and parents for the program for the coming year.
"Yokosuka has the highest concentration of American children in Japan and this creates an incredible opportunity for our students to learn this incredible language and culture," Kim said. "It's all about the children because they are the future of this relationship and I hope they continue to learn and contribute to the US-Japan friendship and the US-Japan alliance."
CFAY provides, maintains, and operates base facilities and services in support of the forward deployed naval forces of the U.S. 7th Fleet, 71 tenant commands, and more than 27,000 military and civilian personnel and their families.
Get more information about US Navy Navy facebook or twitter.